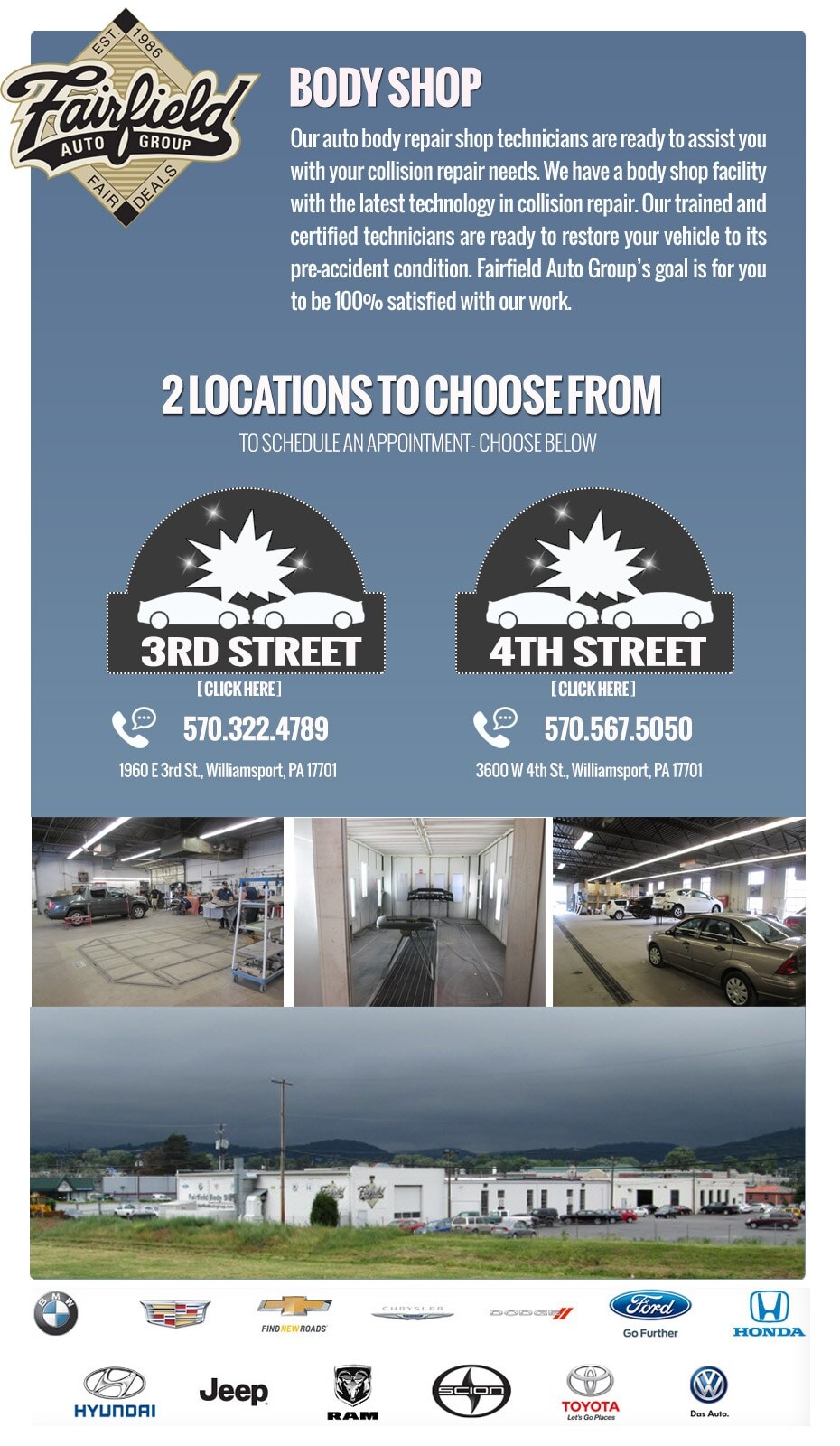 At Kaiser Brothers Auto Group, when we say we are a full-service dealership group, we mean it! Unlike other dealerships, we are also home to professional body shops and collision centers. If your car, pickup or SUV has been in a minor fender bender or a more serious collision near Danville or Montoursville, Pennsylvania, turn to Kaiser Brothers Auto Group and get your repairs taken care of at one of our two body shop locations. Our highly skilled and professional team of auto body repair technicians are ready and waiting to perform the work necessary to get you and your vehicle back on the road promptly.
Here at Kaiser Brothers Auto Group, we offer all of the auto collision repair services you will need to get back on the road. We can repair body panel, frame, suspension and alignment damage and replace glass and mechanical components damaged in a collision. No matter what brand of vehicle you drive, know that we service and repair all makes. Repairing damage from a front- or rear-end collision, fender-bender or sideswipe is a piece of cake for our collision staff!
Get Your Car Repaired After Collision Damage Near Danville And Muncy, PA
The two body shops of Kaiser Brothers Auto Group are proud to serve Danville, Muncy and Williamsport, PA drivers with a wide variety of different collision repair services. We specialize in professional auto body repair and vehicle painting and restoration services. Our state-of-the-art body shops utilize computerized laser measuring and body realignment technologies to bring your car, SUV or pickup truck back to looking like new, so make your way over from Montoursville today!
Our collision centers are staffed by highly skilled body repair and paint specialists who collectively have decades of experience in the field. We have certified service technicians ready for any collision repair or mechanical job. Contact Kaiser Brothers Auto Group when you need your collision repair done promptly and correctly!
Choose A Kaiser Brothers Auto Group Body Shop Location
We have two body shop locations to choose from in Williamsport, PA; one on 3rd Street and the other on 4th Street. Choose your collision center of choice to schedule an appointment for the expert auto body repair your car deserves!